What is spyware?
Spyware is a piece of software that aims to gather information about a person or an organization without their knowledge, that may send such information to another entity without the consumer's consent, or that asserts control over a device without the consumer's knowledge.
How does it work?
While the term spyware suggests software that monitors a user's computing, the functions of spyware can extend beyond simple monitoring. Spyware can collect almost any type of data, including personal information like internet surfing habits, user logins, and bank or credit account information. Spyware can also interfere with a user's control of a computer by installing additional software or redirecting web browsers. Some spyware can change computer settings, which can result in slow Internet connection speeds, un-authorized changes in browser settings, or changes to software settings.
You may never know you have malicious spyware on your computer, as it tends to work quietly in the background and the overt functionality and quality of the program may be very appealing. They're often distributed as 'shareware' or 'freeware' with minimal license restrictions to trap as many people as possible.
What is so special about spyware?
Such software is controversial because it can violate end users' privacy and has the potential to be abused. For example, if a smartphone gets infected with mobile spyware that was sideloaded with a third-party app, the phone's camera and microphone can be used to spy on a nearby activity, record phone calls, log browsing activity and keystrokes, and monitor the phone owner's location. Its presence is typically hidden from the user and can be difficult to detect.
There are some legitimate uses of spyware. If you have a work laptop supplied by your employer, it might have a kind of spyware installed.
Some sensitive businesses like to keep tabs on the computers their staff use, and there are mainstream products which perform this function. But you should be made aware of this as part of your contract of employment, or at least in your staff security policies.
Spyware of a sort is also used for parental control programs that protect children from unsuitable internet content.
Why did Lenovo use Superfish?
Superfish is adware that injects adverts on to browsers in a manner somewhat like malware. Lenovo, a computer manufacturing company has been pre-installing the hidden software, which is labelled as Visual Discovery under Programs in Control Panel, on select laptops and PCs since at least last autumn.
Lenovo said it only shipped Superfish during a short window from October to December, with the purpose of helping customers potentially learn about new and interesting products while shopping. More specifically, Superfish was designed to help customers discover new products by visually analyzing images on the web to find the cheapest ones.
Due to negative feedback, and that Superfish didn't enhance users' experience, Lenovo has completely disabled Superfish's server side interactions on all Lenovo products since January. That means the software is no longer active.
How to prevent spyware from infecting my PC or my phone?
To prevent spyware, users should only download software from trusted sources, read all disclosures when installing software, avoid clicking on pop-up ads and stay current with updates and patches for browser, operating system and application software.
How to remove spyware from a PC or a phone?
Antivirus software that includes antispyware protection should be used to find and remove spyware. One of the best spyware remover is Zemana AntiMalware and you can download it for free (it comes with 15-days free trial). It will detect spyware on your PC and remove it.
However, if you decide to continue using the Trial and do not wish to purchase the Premium subscription at the end of the trial, your Zemana AntiMalware program will disable premium features. All other (basic) features will remain unchanged.
Zemana AntiMalware as a spyware removal tool for your PC
If you get infected with spyware, the first thing you should do is turn off your Internet connection until you are ready to clean your PC. Disconnecting your PC from the Internet connection will help prevent malware from spreading.
If you are looking for a solution that will help you in removing spyware, it is important to note that Zemana AntiMalware is compatible with any antivirus software that you might have on your PC and will run alongside it without any conflicts.
Below you can find a guide on how to detect and remove spyware with Zemana AntiMalware.
STEP 1: Download Zemana AntiMalware here.
STEP 2: Once download, install the software on your PC. You can do this by double-clicking on ZAM program icon on your desktop or in your download files.

STEP 3: Press the "Scan" button.

STEP 4: When the scan is complete, click "Next".
STEP 5: Restart your computer if you are prompted to do so.
Zemana Mobile Antivirus as a spyware removal tool for your Android device
Cell phone spyware has become one of the greatest threats to the privacy of your mobile data and the functioning of your mobile phone. These apps are able to access your text messages, e-mail, call history, location, and can also record your voice calls in some instances. Today, these apps can easily be installed on your phone without your consent or, more often, you install them without knowledge of all of their functions. Knowing about the presence of spyware and how to remove it is important for all end users.
If you are looking for a solution that will help you in the cell phone spyware detection and removal, you can download Zemana Mobile Antivirus.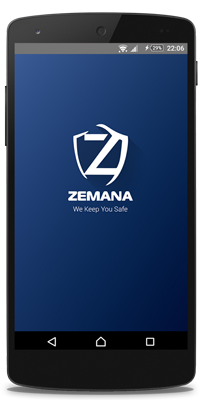 Below you can find a guide on how to detect and remove spyware with Zemana Mobile Antivirus.
STEP 1: Download Zemana Mobile Antivirus here.
STEP 2: Open the UI and press the "Full scan" button.
After the scanning, you will notified whether your mobile device is clean or not. If it is infected with spyware, you can take additional steps in removing it.